Coronavirus
Our school is now open to ALL children.
Coronavirus is a deadly disease and one which will kill many people soon if we as individuals don't make better choices. We are following government guidance and maintaining 2m social distancing where possible. However, due to the age of our pupils, this is not always possible.
Latest guidance.
From Monday 14 September, you must not meet with people from other households socially in groups of more than 6. This will apply indoors and outdoors, including in private homes. This change will simplify and clarify the rules on social gatherings, so they are easier to understand and easier for the police to enforce. There will be a limited number of exemptions. COVID-19 Secure venues, such as places of worship, restaurants and hospitality venues, can still host larger numbers in total but groups of up to 6 must not mix or form larger groups. This rule will not apply to individual households or support bubbles of more than 6 who will still be able to gather together. Education and work settings are unaffected, and organised team sports will still be able to proceed, as will weddings and funerals up to 30. From Monday, this limit will be enforceable in law.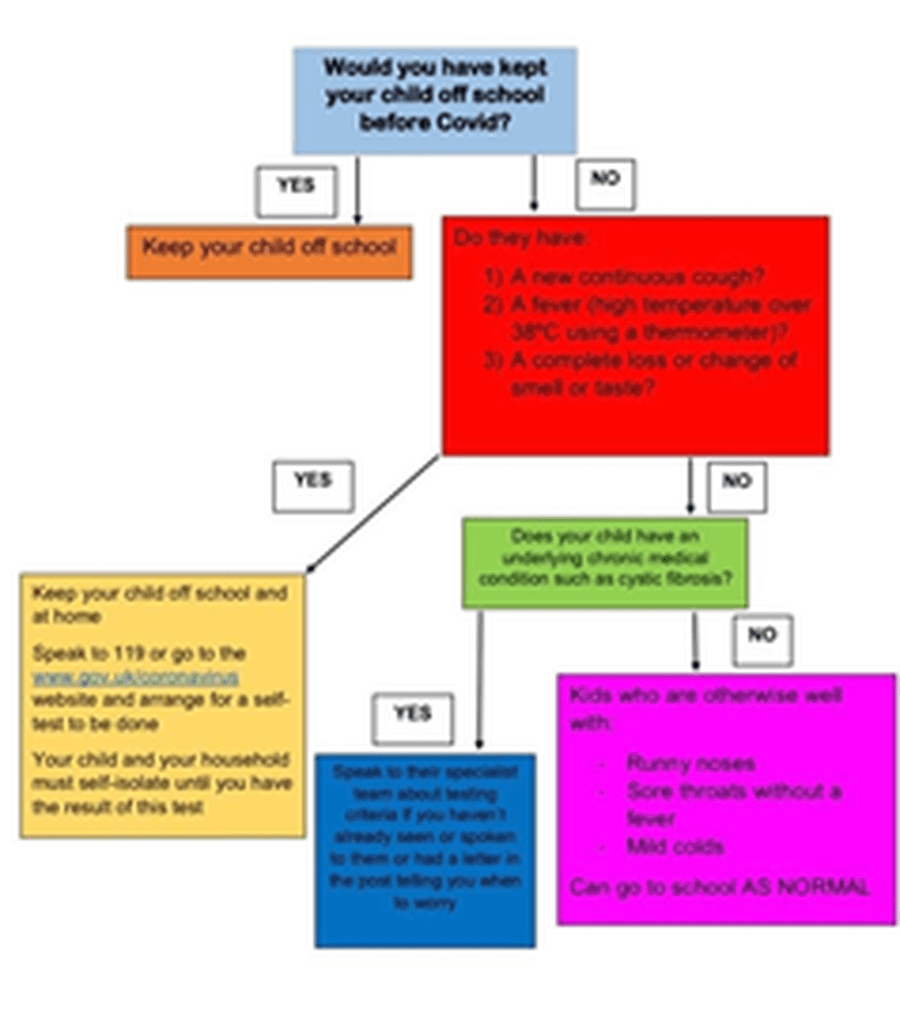 Illness flowchart September 2020
This flowchart is available to download from this page as a word document.
Coronavirus and children:
Many children will be overhearing adult conversations and seeing regular updates on the news about coronavirus disease 2019 (COVID-19). This can result in children worrying about themselves, their family, and friends getting ill with COVID-19. Parents, family members, school staff, and other trusted adults can play an important role in helping children make sense of what they hear in a way that is honest, accurate, and minimise anxiety or fear.
Click on the link below for a child friendly video to start the conversation off.
https://ineqe.com/2020/03/20/animation-story-book-explains-the-coronavirus-to-children/?fbclid=IwAR3EcLPcKQbDzjxze4bfvtzhtIx__jZC6aw80TvrdYTwvqRo_HL4xNrNA
The government have been putting together a wealth of materials as we work our way through this unknown territory:
What parents need to know about educational-settings
Testing
How to test your child for Coronavirus
Talking to children about Coronavirus:
When talking to your child:

Remain calm and reassuring.
Make yourself available to listen and to talk.
Avoid language that might blame others and lead to stigma.
Pay attention to what children see or hear on television, radio, or online.
Provide information that is honest and accurate.
Teach children everyday actions to reduce the spread of germs.
Calm Brain are offering free access to CalmBrain for all parents, giving them unlimited access to the Jukebox for the duration of school closures. To access this service, email calmbrainsupport@calmbrainapproach.com and provide the following information:

First and last name (i.e. your name - parent; they do not need the name of the child)
Your email address
The name of our school.
Videos:
During lockdown, we might have been physically apart, but we were not apart in spirit. Pupils and staff alike helped to bring smiles and to keep in touch with each other through the creation of some short videos.
| Name | |
| --- | --- |
| Advice for children.pdf | Download |
| cco-childrens-guide-to-coronavirus.pdf | Download |
| Helplines and websites for parents.pdf | Download |
| Helplines and websites if you need help now.pdf | Download |
| Illness flow chart Sept 2020.doc | Download |
| Keeping-Calm-and-Providing-Supportive-Parenting-During-the-Coronavirus (002) (002).pdf | Download |
Showing 1-6 of 6
Home learning packs in the event of lockdown:
All pupils will receive weekly home learning packs. We ask that all pupils read on a daily basis and that pupils complete a reading quiz on Accelerated Reader where possible. We ask all pupils from reception through to year four, to access Numbots/TT Rockstars daily (10-20 minutes dependent on age). Pupils in year 3/4 are asked to complete a weekly 'soundcheck' on TT Rockstars as this gauges their times tables knowledge. Additional, optional tasks will be posted daily on our school Facebook page.
Staff are more than willing to offer feedback on work - offering praise and next steps. Please send any work by email to:
foundationstage@manifold.staffs.sch.uk (Nursery and Reception)
keystage1@manifold.staffs.sch.uk (years one and two)
keystage2@manifold.staffs.sch.uk (years three and four)
| Name | |
| --- | --- |
| Parents Guardians letter - from Cllr Price and Dr Harling - 11.9.20.pdf | Download |
Showing 1-1 of 1
| Name | |
| --- | --- |
| 1st June action plan.docx | Download |
| abbreviated risk assessment for parents June 2020.pdf | Download |
| behaviour policy addendum.pdf | Download |
| Coronavirus Covid19 - Risk Assessment - 2020.pdf | Download |
| first aid covid.pdf | Download |
| Home school agreement COVID-19 June 2020.pdf | Download |
| reopening June 2020 parent info.pdf | Download |
| Returning to school.pptx | Download |
| safeguarding policy Covid June.pdf | Download |
Showing 1-9 of 9